Arthritis Awareness Month
The month of May is recognized each year as Arthritis Awareness Month. More than 54 million adults as well as 300,000 children are living with arthritis and related diseases. That's about 1 in 4 Americans who are afflicted with arthritis. All month long, the Arthritis Foundation, CDC, and other partners work to raise awareness for arthritis through fundraises, Cure Arthritis shirts, and even a Racing For A Cure team. Anyone and everyone is encouraged to join the Racing For A Cure team with all abilities welcome, working together to #CureArthritis. You can show your support by using the hashtag #CUREARTHRITIS on Twitter, Facebook, Instagram, or wherever you prefer to post!
Arthritis is an umbrella term that covers over 100 different types of arthritis and related conditions that affect the joint, the tissues around the joint, and other connective tissues. Arthritis can be broadly defined as inflammation or swelling of one or more joints. Arthritis is an informal way of referring to joint pain or joint disease. Common symptoms that most arthritis patients experience include but are not limited to swelling, pain, stiffness, and decreased range of motion. Symptoms can come and go and may be mild, moderate, or severe. They may stay about the same for years and then can progress or get worse over time. Severe arthritis can result in chronic pain, inability to do daily activities and can make it quite difficult to walk or climb stairs. Arthritis can cause permanent damages to the joints which may be visible. These can include changes such as knobby fingers. Some types can even affect the heart, eyes, lungs, kidneys and skin as well as the joints.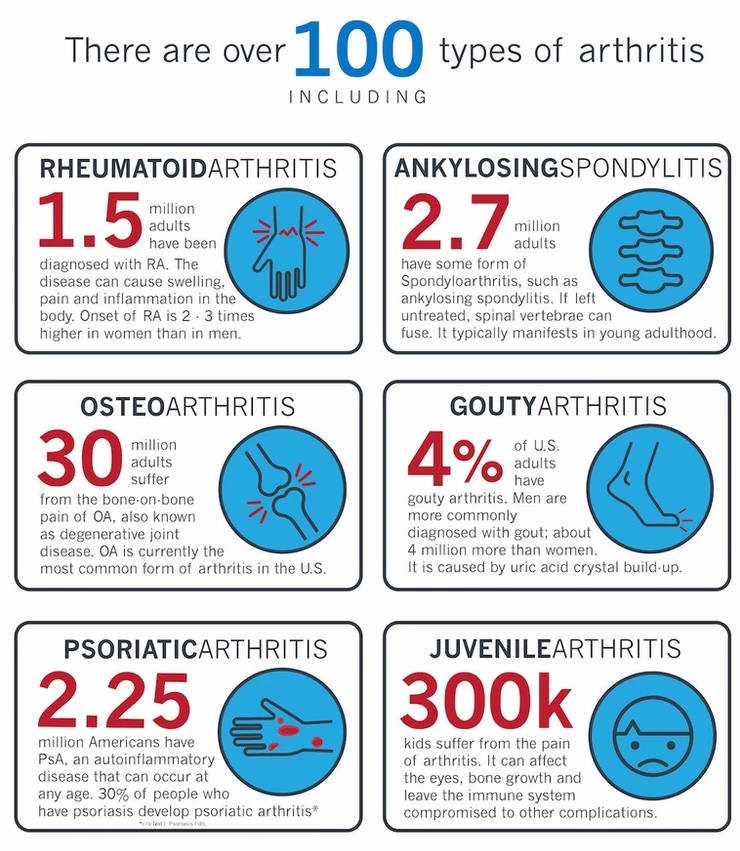 If you think you may have arthritis, there are a few ways that you can track your symptoms before checking with a medical professional. There are four warning signs for an arthritis diagnosis; Pain, Swelling, Stiffness, and Difficulty moving joints. The pain may be constant or can come and go. It may occur when at rest or while moving. It can be in one specific part of the body or it can be in multiple different locations. There are some types of arthritis that can cause the skin over the affected joint(s) to become red, swollen, and feeling warm to the touch. You should see your doctor if the swelling lasts for 3 days or longer, or if the swelling occurs more than 3 times in a month. Stiffness is a classic arthritis symptom. You may feel stiffness especially when waking up in the morning or after sitting for a while (ex: at your desk at work or a long car ride). It should not be hard or painful to move from your favorite comfortable chair or couch. If you have any difficulty moving your joints when completing these simple tasks, it is a clear warning sign that you may have arthritis.
If you are experiencing such symptoms, there are simple ways you can keep track of your symptoms to take to your doctor. You should track your symptoms for a few weeks, this will help your doctor further understand and then pin down the type and extent of the arthritis. As you are tracking your symptoms, take note of exactly what and where you are stiff and swollen. You should also be taking note of when these symptoms are occurring, for how long, and what helps to relieve your symptoms. Be sure to pay attention to and note symptoms that may even seem unrelated. These could include fatigue or new rashes. If you develop a fever, you should seek medical care.
When seeking out medical care regarding arthritis, most people start with their primary care physician, you may also be referred to a doctor who specializes in treating arthritis and such related conditions. For those who have more serious issues, you might be sent to either a Rheumatologist or Orthopedic Specialist. At Valeda Rx, we work closely with the Rheumatoid Arthritis community including patients, caregivers, and health care providers.
Rheumatoid Arthritis is an autoimmune disorder that occurs when your immune system attacks your own body's tissue mistakenly. It is a chronic inflammatory disorder that affects more than just the joints. In certain patients, the condition can damage a wide variety of body systems. Rheumatoid Arthritis affects the lining of the joints and causes a painful swelling that eventually can result in bone erosion and joint deformity. The inflammation can damage other parts of the body as well. Rheumatoid Arthritis signs and symptoms can vary in severity and can come and go.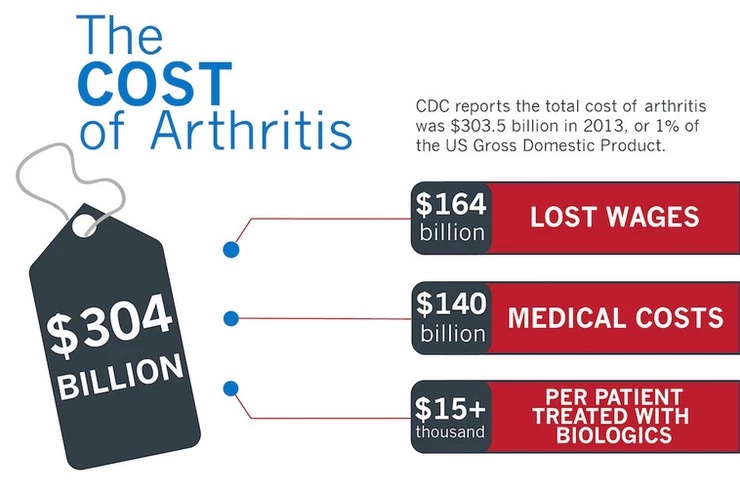 As a specialty pharmacy, Valeda Rx works with patients afflicted with Rheumatoid Arthritis along with Rheumatologists nationwide. We understand how debilitating Rheumatoid Arthritis and other related conditions can be and do everything we can to help make our patient's lives easier. Not only can these medications greatly effect the health of our patients, but they can also be extremely expensive. Valeda Rx works with 501C3 organizations that provide grants to help reduce the out-of-pocket cost for patients with arthritis and other disease. So far, we have saved our patients over $1.8 million! To learn more about Rheumatoid Arthritis, discover available financial and healthcare resources, or to get involved in the arthritis community, visit www.arthritis.org today!
About Valeda Rx
Valeda Rx is an independent national specialty pharmacy, servicing all 50 US States and the District of Colombia. We are focused on improving the care for patients living with complex and chronic conditions such as Hepatitis C, HIV, Multiple Sclerosis, Rheumatoid Arthritis, Psoriasis, Crohn's, Oncology Diseases and more. Our Care Team puts patients' needs first, treating each as though they were part of our own family.
​
By working together to coordinate the right medication for the right therapy at the right time for our patients, we support and guide the improvement of patient outcomes. Whether you are a patient, caregiver, prescriber or partner, you will receive the type of independent care and attention and service you not only need, but that you also deserve.